SCHOOLS RECEIVE GRANTS FROM TRUCKER BUDDY, PEOPLENET
April 26, 2016
Contact:  Randy Schwartzenburg
randy@truckerbuddy.org
205-248-1261
Trucker Buddy International and PeopleNet Communications are pleased to announce that 19 schools have been granted $500 each for supplies and equipment needs in 2016. Schools with funding needs and creativity in the use of the funds played a major part in the selection process. Started in the fall of 2014, the School Supply Grant Program allows current Trucker Buddies and their Trucker Buddy classes to apply for grant consideration.
Some teachers used the grant application as a class project, getting the students involved in the process to be not only a request for funds but a learning experience as well. The grants were awarded based on need and how the teachers planned to use the funds.  School supplies and classroom equipment such as iPads and white screens were among the primary uses for the funds.
"We recognize the increasing demands on teachers to provide students with the right supplies to help them learn," says Brian McLaughlin, president, PeopleNet Communications. "With budget cuts and economic hardships in many school districts across the country, this makes their jobs that much more challenging.  With this in mind, PeopleNet is proud to support the Trucker Buddy program and to recognize all of the great work teaching professionals do for students throughout the United States. We appreciate how this program helps children learn important skills and how much fun this interactive experience is for students and teachers alike."
According to Randy Schwartzenburg, Trucker Buddy Executive Director, "Trucker Buddy, with the funding from PeopleNet is thrilled to offer these grants to the deserving schools," he says. "Many teachers and drivers donate not only their time but their own funds to help their classrooms and this is great opportunity to help our community.  Because of the generous donations from PeopleNet we were able to increase the classrooms that received the grants from 12 to 19 this year."
School Supply Grants 2016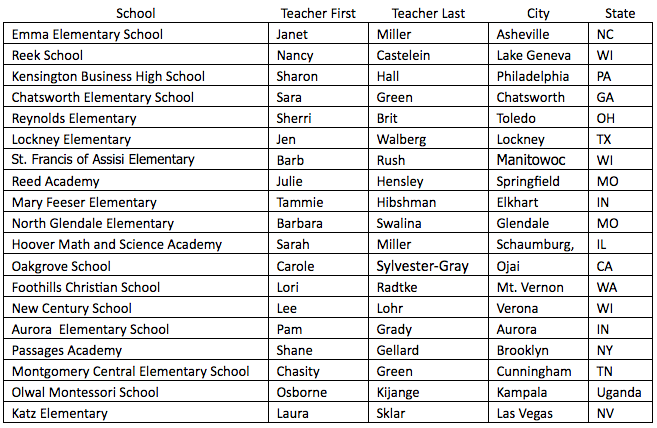 Trucker Buddy International
Trucker Buddy International, an independent, non-profit 501(c) (3) organization, often called the number one trucking image campaign in North America, has helped educate schoolchildren and introduce educators to the trucking industry. This gives them the world through the eyes of a professional truck driver. The Trucker Buddy program helps to educate and mentor schoolchildren via a pen pal relationship between professional truck drivers and children in grades K-8 as supervised by their teachers.
After an extensive screening process, the professional truck drivers are matched with a class and as directed by the teacher, drivers share news about their travels with their class. Students write letters and send pictures to their drivers. Students' skills in reading, writing, geography, mathematics, social studies, and history are enhanced and learning is made fun.
Since 1992, Trucker Buddy International has helped educate over a million schoolchildren and introduced them to caring, compassionate men and women, professional truck drivers. The on-going success of the program is due to driver volunteers, participating teachers and the contributions of sponsors. There is no cost to the drivers or teachers to participate in the program. The Trucker Buddy program is funded entirely by sponsorships and donations. If you would like to make a donation, click here.
Trucker Buddy press releases are provided by American Trucking Association and Conversation Interactive Agency.