Our clients tell us that Over the Road works best!
23 years in business
100% Canadian owned
We are a national digest magazine, delivered  throughout Canada
We have the best truck stop circulation in Canada and distribution makes the difference!  Over the Road is hand delivered into Canadian truck stops coast to coast and we have the exclusive rights for Over the Road to be placed into the Flying-J truck stops and several of the Husky locations
25,000 copies are delivered into truck stops each month + 8,000 digital copies which are sent to subscribers monthly (and growing)
We very proudly offer a one price policy and our full-colour, ad design service is always complimentary
No contracts are ever required
If you would like more information about advertising in Over the Road or any of our other recruiting services please give us a call or
E-mail us.  We would be please to answer all of your questions and to design a sample ad for you.
---
Distribution is the Difference
Over the Road is the only National trucking magazine to be distributed at Flying-J corporate stores across Canada. Over the Road is the only trucking magazine to distribute at HOST travel plazas along the 401 in Ontario. This helps us deliver your recruiting message to more truckers every month.
---
Monthly Circulation
| | | |
| --- | --- | --- |
| Fleet Managers | 1000 | 3% |
| Flying J Exclusive | 5100 | 15.46% |
| Other Exclusive | 900 | 2.73% |
| All other Truck Stops | 18000 | 54.55% |
| Digital Subscription | 8000 | 24% |
| | 33000 | 100.00% |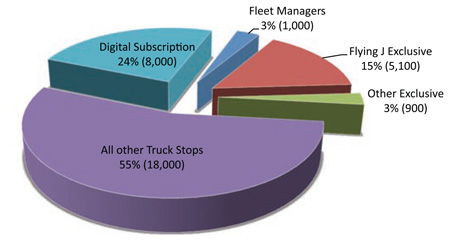 ---
 Deadlines
| | | |
| --- | --- | --- |
| Issue | Closing Date | Material Deadline |
| Feb-17 | January 16 | January 17 |
| Mar-17 | February 10 | February 13 |
| Apr-17 | March 13 | March 14 |
| May-17 | April 18 | April 19 |
| Jun-17 | May 12 | May 15 |
| Jul-17 | June 13 | June 14 |
| Aug-17 | July 13 | July 14 |
| Sep-17 | Aug 14 | Aug 15 |
| Oct-17 | Sept 15 | Sept 18 |
| Nov-17 |  Oct 13 |  Oct 16 |
|  Dec-17 |  Nov 14 |  Nov 15 |
| Jan-18 | Dec 8 | Dec 11 |
---
Regular Editorial Features in OTR and/or OTR Digital
Carrier Profile or President's Page
Speaking from Experience: Ray Haight
Choosing a Trucking Company: Robert Scheper
Safety Dawg: Chris Harris
Women in Trucking: Ellen Voie
Trucker Buddy International News
---
1-800-416-8712
otr@otrgroup.ca