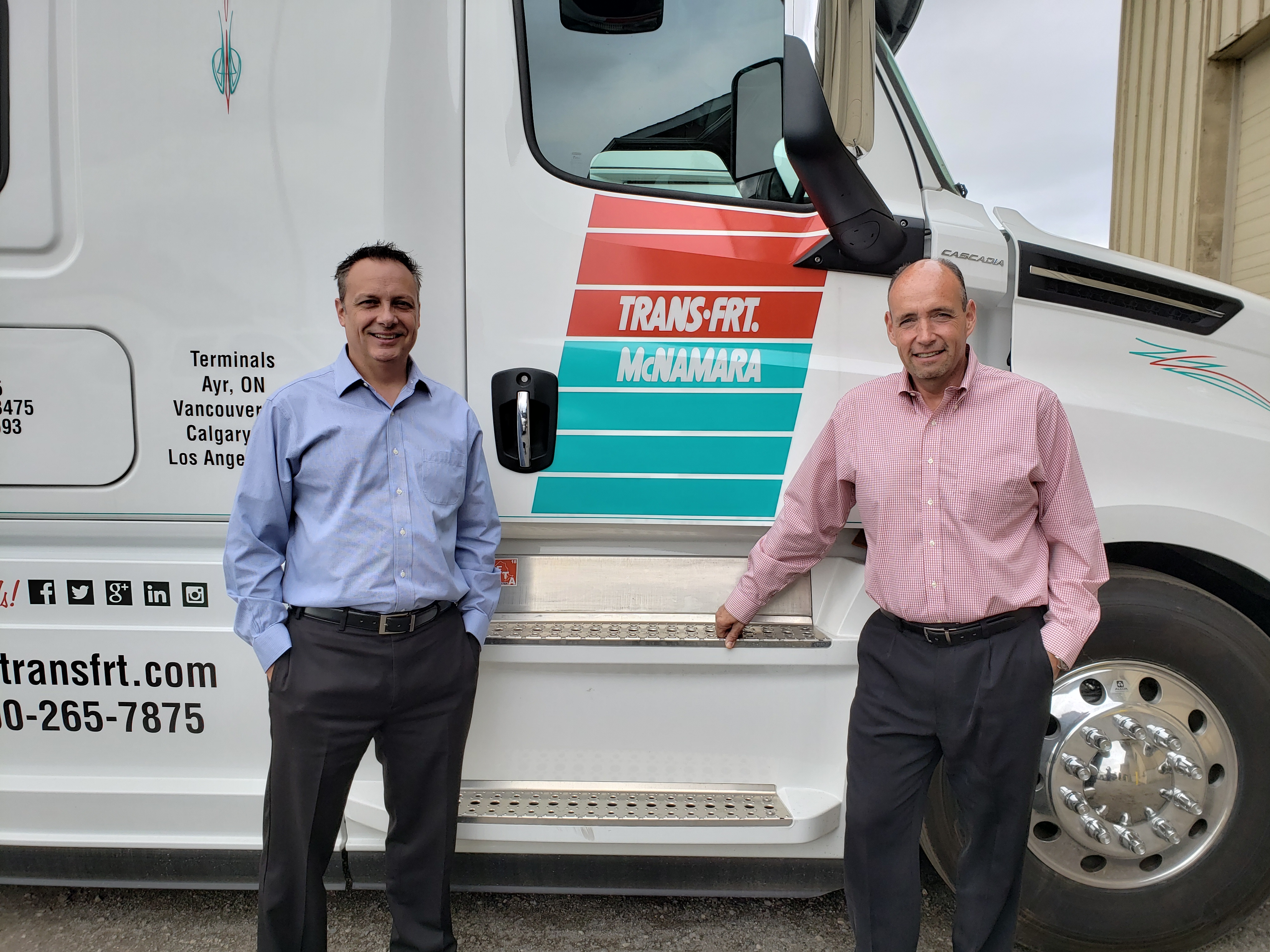 Left: Greg Palmer  |  Right: Ward Tregoning
In 1986, Paul McNamara and Lorna Taylor began the company as a freight forwarder. In 1989 the company purchased three trucks to augment the brokerage. A few years later, Greg Palmer joined the company working in operations and then sales before moving to Vancouver to open the western Canada operation for the company. In 1993, Ward Tregoning joined the company as the Controller, having come over from the Scotia Bank as their Senior Account Manager that handled the company account. In 1999, both Greg and Ward accepted the opportunity to purchase the entire company. Greg moved back after 8 years in Vancouver and the two men began a five-year purchase of the company with the goal of doubling the company size in 5 years. 32 years later the company looks much different. Three major terminals (Ontario, Alberta and BC) plus yards in Brampton and California; the company is centered in Ayr, Ontaro with new offices built in 2011 that includes a 22,000 sq. ft. shop that features a pit capable of handling 5 tractors, 4 trailer bays and 30,000 sq. ft. of warehousing for their cross-docking requirements.
Currently they employ 130 people including both Company Drivers and Owner Operators. 85% of their freight is truckload. Ward states, "The average age of our Freightliner tractors is 1.5 years as several years ago we adopted a policy to have all our power units under warranty. Everything is replaced in 3 years". He continues, "we often consider Owner Operators with older equipment. However, we look closely at their maintenance records and the overall condition of their truck".
While Over the Road was interviewing for this article, in attendance was Denise Elliott, Manager/Safety & Recruiting. Denise commented during the interview that she was currently reading an e-mail she had just received from one of their drivers. Upon request she read the e-mail and it is was as follows: Everyone can use a positive note to their day. As I was finishing up my drive today, I was thinking how much I appreciate the run I have, the equipment I use and the people I get to work with at TFM. I'm glad I made the move. Cheers! Kevin Matthews.
Denise told us that this type of comment from one of their drivers is typical of the general attitude of the driving fleet. She continues, "We are one of the higher paying companies in Canada. We acknowledge safety with awards and we have a seniority bonus. When we asked Greg and Ward what they like about their company Ward said, "We are extremely safe and we pride ourselves on that. For the past two years, any equipment we have purchased has all the accident avoidance features available from Freightliner plus bunk heating/AC/lane departure notice and adaptive cruise control. And we are currently implementing forward facing cameras in our trucks". Greg continues this thought. "Our strong management group and the longevity of the people who work here has allowed for a committee approach so that each management person provides value. Our drivers are well liked by our customers and many of our customers were in place even before Ward and I came onto the scene. Thus, we have a very stable organization. We excel on technology using McLeod Software for our operations. For a company of this size it represents a significant investment but it makes us more efficient and it's better for the drivers and inside staff. It will also enable the company to grow. We are well positioned to double the size of our company because we have already invested in the technology that takes time to implement and that work is now complete".
We pointed out that thousands of Drivers and Owner Operators will read this article and then asked, "What one piece of advice would you like to give them?" Ward replied that it is the professional drivers that are the face of our entire industry. If a driver comes to them with a good attitude, then they expect to be treated well and respected in return. They have many drivers who have left to check out greener pastures and then returned for the kind of treatment they expect in a trucking company. "We also have an 'open door policy' so if a driver has a suggestion or issue, they can come to either of us as well as any member of the management team" says Ward. Denise Elliot mentioned that all their drivers have a choice to drive local miles or long haul. Some choose to 'live in their truck' by running as much as possible. "It's their professionalism that enables them to do this" states Denise "and we are a pet friendly organization so many drivers take their pets and even here in the office, everyone keeps dog treats in their desk for that moment when a driver and his friend are here visiting".
We asked if the pool of Drivers and Owner Operators is shrinking and Ward comments: "Not for us. For us it is growing and once we get them in the door to check us out, our pay package and environment closes the deal. Denise is on point for this". Greg adds, "We currently have 95 Drivers/Owner Operators but our plan is to continue to grow slowly and steadily as we bring on more drivers. We have the infrastructure and capacity to ultimately have about 200 power units. We are cautious about growing too quickly".
Both men are still relatively young and have lots of years left in this business. They feel that with the money and effort spent on technology, they want to see the fruits of their labour and they are both excited for the future.