STEVE'S LIVESTOCK TRANSPORT: 30 YEARS OF HUMANE ANIMAL HANDLING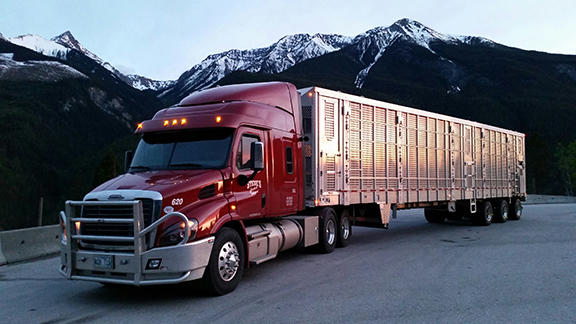 Started in 1987 by a young entrepreneur with a single truck and trailer, Steve's Livestock Transport is a made-in-Manitoba success story that has since grown into the largest commercial livestock carrier in North America.
President & CEO Steve Brandt learned much of what he knows about the livestock business from his father, Alvin, who ran a grain farm and equipment dealership. When the time came for Steve to launch his own career, he wanted to start from the ground up and still find a way to feed his family.
After the credit union turned down Steve's first business loan application, he shifted gears and approached a friend about purchasing a tractor and trailer they were selling. Despite having no money for a down payment, the friend shook Steve's hand on a promise to repay him within a year. So did another friend, who extended him the same credit-on-a-handshake for diesel fuel.
Both of the friends were repaid on time, and Steve's Livestock Transport was well on its way.
"It was touch and go at first," Steve Brandt admits. "In the days before log books, I drove long hours seven days a week for the first five or six years. I soon bought three more trucks and truck number three was my first owner-operator."
Today, 30 years later, Steve's Livestock Transport is a leader in the transportation industry with a fleet of 140 power units transporting livestock across Canada and throughout the United States. Brandt gives a large amount of credit for the company's success to the executive team at the table with him.
"Our growth and everything we have achieved to date would not be possible without having the right people in place, and our people are among the best in their field," Brandt says, naming COO Bill Rempel, CFO Bruce Haresign, VP of Logistics and Industry Relations Rick Peters, and VP of Organizational Development Candace Bartel as the key decision makers having the most impact on operations.
This leadership team has helped to ensure that Steve's has managed to change along with the evolving agriculture industry. "At the beginning, 98 per cent of our freight was cattle, but within 10 years, the pork sector rose to greater prominence," Brandt says, adding that the company continues to transport both hogs
and cattle.
Brandt is proud of the fact that his team are not just able to roll with the changes – they are setting out to be the change. For example, in earlier years, Steve's recognized the importance of biosecurity and the role they played in reducing and preventing the spread of diseases and other issues pertaining to risk management.
"We needed a wash bay facility to clean our trailers, so we built one at our home terminal in Blumenort (near Steinbach, Manitoba), and then a wash bay in Brandon, and another in Acme, Alberta," Brandt says. Recently, the Acme site was closed to make way for a new terminal and state-of-the-art wash bay in Red Deer, Alberta which houses a commercial truck wash and large equipment repair service facility.
Their Greatest Asset: People
Becoming the largest livestock carrier in North America requires a commitment to innovation. For example, since most livestock freight runs north to south from the Canadian Prairies down to the U.S. Midwest, Steve's had to come up with a profitable way to haul freight on the return to Canada. Their solution was to design a convertible trailer that could be sanitized and modified to haul general dry freight (everything except food) back into Canada.
Steve's invented and built an industrial-strength baking bay for livestock trailers. Capable of reaching and holding temperatures at 167°F (75°C), the baking bays effectively kills many known biohazards familiar to the hog industry, most recently the PED virus. This is the final step in Steve's extensive sanitation protocol before transporting.
In 2015, Steve's introduced an all-aluminum hydraulic lift deck system designed to reduce animal fatigue, stress and injury while moving livestock. As livestock will no longer need to use a ramp when entering or exiting a trailer, the hydraulic lift system reduces stress on the animals and contributes to improved meat quality.
"Because animal handling is a top priority for us, we knew we had to find a better solution to ensure the health and safety of the herds and we believe this hydraulic lift system is the future of moving livestock," says Brandt. "We always try to do things that have not been done before and this one was a game-changer for the industry."
Understanding that happy drivers and front-office staff make for happy customers, Steve's Livestock Transport takes its responsibility for the people it employs and serves as seriously as the company takes its strict standards for humane animal handling, safe transport and on-time delivery. Little wonder Steve's lives by its motto: "Our greatest asset is our people, our customers and our team."
A large number of its drivers and owner-operators have been driving for the company for several years as they enjoy the dedicated runs. While its hauling lanes are mostly in Western Canada and the U.S., Steve's also does pickups in the east.
"We have a lot of daily runs and some weekly runs too," Brandt says. "We also purchased and run a successful driving school here in Manitoba, but we recruit new drivers from anywhere in Canada."   
Steve's Livestock Transport's senior-most driver joined the company as an owner-operator nearly 25 years ago; and even at the age of 84, he still loves to get behind the wheel as a company driver. His name? Alvin Brandt – Steve's father.
"We are very much a family company that really knows livestock and the livestock hauling business," Brandt says. "Not only is my father still driving for us, my son Jason is the Alberta Logistics Manager in our Red Deer terminal. My wife Betsy was involved in the business for many years and while my mom once drove a truck for us, she is still around the office on most days."
When asked if he thinks about succession planning, Brandt, who is only 50 years old, says that as long as he has his health, the good genes and energy he has inherited from both of his parents will ensure he runs the business for a very long time to come.
Where There's a Will, There's a Way
When the Flood of the Century hit in the spring of 1997, the Red River overflowed its banks in Minnesota, North Dakota and Southern Manitoba, causing widespread damage and evacuations.
"Dikes were constructed based on a 49-foot estimate of flooding set by the National Weather Service and the Red River crested at 54 feet," Brandt recalls. "A countless number of people had to be evacuated in the Red River Valley, but little attention was paid to the animals. Our company worked night and day for two weeks to get out as much livestock as possible, and in that time, only lost a single cow to the disaster."
This story is a testament to the community spirit and family values that are the foundation of Steve's Livestock Transport for the past 30 years.
"You can count on Steve's Livestock Transport to continue driving change in our industry by pursuing innovation, upholding our high standards and remaining determined to find better solutions for our customers, employees, community and stakeholders," Brandt says. "We believe that where there's a will, there's a way."