Hyndman Opens New Terminal in Ayr

For more information: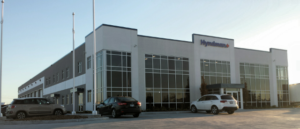 Deborah Hart
Director of Recruiting
dhart@celadoncanada.com
Wroxeter, ON – Hyndman Transport, a Canadian subsidiary of the Celadon Group (NYSE:CGI) has announced the opening of a new trucking terminal in Ayr, ON.  The new terminal is located at 2616 Cedar Creek Road, just off Ontario Highway 401 and Highway 97 at Exit 268 and provides easy access to this primary trade artery with the U.S.  The new facility features a state-of-the-art driver lounge, new driver dorm rooms and an expanded maintenance shop that includes a wash bay and loading dock.  In addition, the Ayr terminal is a full-service facility that includes driver recruiting, safety, orientation, operations and administration.  With the opening of the Ayr terminal, Hyndman has closed the terminal in Kitchener and all drivers and staff have transitioned to the new facility.
"We wanted to offer our drivers additional resources housed in a facility that's second to none," explained Mike Campbell, President of Hyndman Transport. "The new Ayr terminal not only allows us to provide more services to our drivers than ever before, it also provides drivers with a very convenient location."
Opening a new trucking terminal paves the way for Hyndman to expand their fleet and connect with more drivers.  The new facility will serve as a base of operations for recruiting and orientation. With more than 75 years of experience behind them, Hyndman Transport understands the value of good drivers.
"There is nothing more valuable to our company than our drivers and this new facility demonstrates our commitment to them.  We have built a reputation of being a driver-focused company and we believe this new facility validates this dedication," stated Campbell. "Additionally, the opening of our new terminal is the latest initiative that demonstrates our customer commitment to ensuring we continue to provide excellent service in truckload transportation throughout the Canadian provinces and beyond."