Carrier Profile: Little Rock Farm Trucking
If you visit Walkerton, Ontario and drive to Little Rock Farm Trucking, you will enter through a paved entrance that is open and spacious. An aptly-coloured building plus a shop with four bays reflect the company's name. Inside, Dispatch doubles as reception and while you wait, you see that every call is answered with sincerity. While everyone is focused on the business at hand, they are not too busy to offer a friendly 'hello' and to see to your needs. You will be taken to the second floor board room that also doubles as their training area. It too is quaint and comfortable.
This is the experience that Ed Novoa had during his visit in mid-October. As General Manager of Over the Road Magazine, Ed enjoys working with trucking companies to learn and tell their story. John and Mark Reuber explained to him how the company came to be and where it is going. Sitting across from John and Mark Reuber, Ed's first question was, "Which one is the older brother"? With a hearty chuckle, the story begins.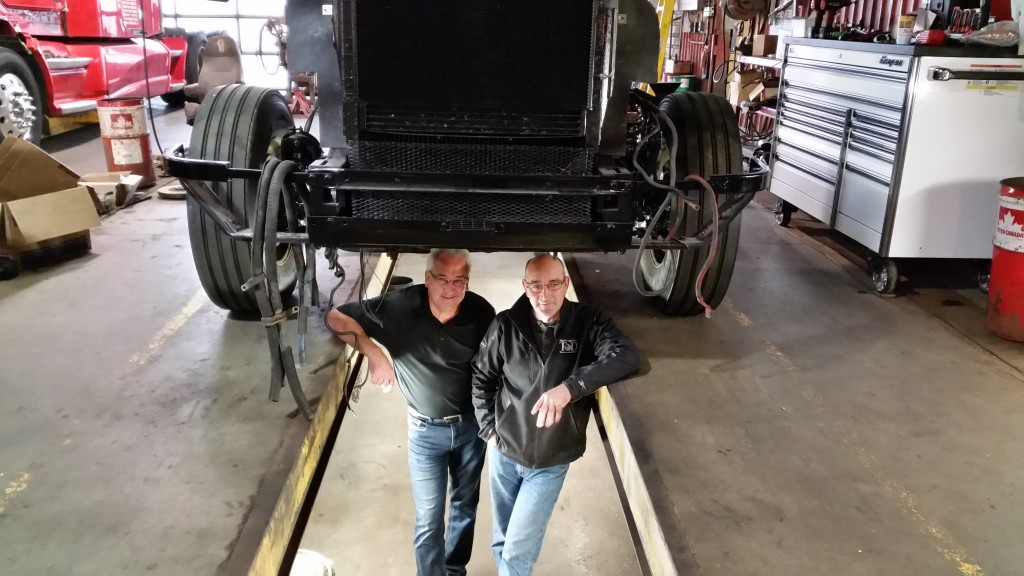 Little Rock Farm Trucking was formed in 1981 by farmer and feed mill owner, Jim Scott as a hauler of feed and agricultural products. In 1993, Mark Reuber contracted his truck plus a driver to Little Rock Farm Trucking and Mark then worked inside at company operations. His brother John was an Owner Operator at the time and there are two additional Reuber brothers – Paul and David, all who are in the trucking business. The four brothers began to discuss the possibilities of purchasing the company and running it using their combined skills. Paul, Mark and John embraced the challenge while David opted out. In February of 1994, Paul, Mark and John bought the shares from Jim Scott with each assuming 33.3% of the company ownership. After 5 years of ownership, Paul sold his 1/3 interest to his brothers and Mark and John now own and operate Little Rock Farm Trucking as equal shareholders.
Both brothers are drivers and their skill sets are complimentary to each other. John gets his hands dirty by looking over the equipment and the purchasing side of the business. Brother Mark says "I have clean hands; clean finger nails. I look after the administrative and operational stuff." Being drivers, they have created a type of company culture. Mark explains. "We're not coming to work in suits and ties with polished shoes. We feel we have a good sense of what our drivers are going through; we know the good parts and the bad parts about trucking. It helps drivers when the management team has a good understanding of what a driver is going through." He continues. "It can be disheartening for a driver when they call in and the person that they are dealing with has no idea what the driver is going through and might not have empathy for their problem. A driver may be thousands of miles from home; hasn't seen their family in days – we know what that's like and can deal with it appropriately". John adds that it gives drivers comfort and confidence knowing that, when they call in, for whatever reason, the driver knows that they are talking with the owner and know that their issue will be taken care of immediately. Both brothers agree that the company has taken over their lives, which is not unusual for transportation. Adds Mark, "We live it from the moment we open our eyes to the moment we go to bed. So coming into work is like coming in to see the family. They both agree that they do not want Little Rock Farm to get to the point where drivers become numbers. "We are making it clear that we want to be able to recognize our drivers by their voice when they call in…we want to know who they are, who their families are and deal with them on a personal level like that."
Up until the economic bust of 2008, Little Rock Farm Trucking was hauling a great deal of automotive parts. To adjust and survive, they reworked their business and went back to their roots; they switched to hauling food stuffs and temperature-controlled commodities. They no longer haul automotive. To do that, they had to adapt technology that is compliant while setting out strict rules for both tractor equipment and temperature-controlled regulations. They were one of the first companies to implement satellite tracking in the 90's. They follow HACCP (Hazard Analysis Critical Control Point) standards and C-TPAT standards. They believe that the stigma that truckers are averse to technology is long gone. The ones who were the slowest to engage in new technology are now the biggest proponents and they suffer when the technology isn't there. "It took a little while longer to teach them but now they cannot live without it".
"In all our new power units, we can monitor our reefers online for temperature and for unauthorized movement and fuel levels. We receive alerts when there is a problem and often we know the specifics of the problem. We have also enabled all our trucks with WI-FI; all drivers are assigned a tablet upon which they run their log books and to stay on top of regulations and training requirements, plus they have the ability to communicate with their family and friends. Our trucks today are like mobile offices equipped with a printer, copier and scanner. If you think about the amount of time drivers save by not having to find a truck stop or go into the truck stop to spend money on faxes, you're potentially looking at an hour of time saved through this system each time".
Mark discussed the company's philosophy for growth. "We believe that each and every day, we do what we say we are going to do and we do it the very best that we can. We are growing our fleet and our customer base through service. We have found that a good driver or a bad driver is going to affect our company positively or negatively and also affect our customers the same way. We instill this philosophy into all our new hires and all of our students".
Students are a part of the future, as Mark explains, "The barrier to growth is finding qualified drivers and Little Rock Farm Trucking is addressing this by launching a driver-training curriculum for public access". Students that complete the full course will receive a Tractor Trailer AZ Diploma (approved vocational program as per Private Career College Act 2005). The training school is going to be separate from the company and it will be a private training facility. Thus, graduates will have the choice to go and drive anywhere they want to work. "Our objective is to take drivers, with or without a license and get them to a point where anyone can hire them and a fleet can feel confident that when they hire them, they can give them a set of keys and send them out on the road. The school will also have a driver refresher course for those drivers who have been out of the truck for a few years and want to re-hone their skills. Our school will be on site with our terminal which means, if we are discussing an issue such as brakes, we can take students right into the shop, get them into the pit and show them real working equipment plus have a real-life experience with a licenced mechanic".
A story was related about a young man who washed trucks on weekends and subsequently, he was taken through Little Rock Farm Trucking's driver training program. He ended up driving for them for five or six years. "We are not opposed to training someone. We just need to know we are getting a commitment to trucking", states John. He continues, "Trucking used to be a lifestyle but now it is just another way to make money. With the different generations that have been coming into the workforce, trucking is viewed as the anti-lifestyle. Very few people want to be away from their home, their family and activities for days at a time." He goes on to conclude that trucking presents an opportunity for young people to work at driving for a few years and bank a bunch of money. Then, they can have their families and if they chose, either move into a different career, or stay in the truck.
The second barrier to growth has been controlling our capital costs. The volatility of our Canadian dollar and the unpredictability of fuel prices are the main culprits. A company can plan for a high price or a low price etc. but you cannot plan for something that has no consistency.
Despite the challenges, Little Rock Farm Trucking is doing its best to take care of the internal needs, people and customers. Mark concludes, "Moving forward our goal is as it has always been – serve the customer in such a way that growth, based on the economy, will take place organically."
When not working, John is tinkering in his workshop at home, "I love the mechanical field and I love technology. I have a workshop at home where I spend a lot of my spare time. I like cars – I used to race cars as well. Plus I live on a ten acre farm which I purchased from my mother. I tinker with some crops, I have a Harley Davidson motorcycle that's in a billion pieces and I have a 1970 Chevy Nova that I hope to fully restore someday." John lives with his wife and his twin girls who are now in college.
Mark has an interest in mechanical hobbies but he prefers to tinker with the ivory keys. "I've played piano all my life. I participate in our church services and I've done some concerts here and there." Mark and his wife have raised four children in the Walkerton area.