TFX International: The Family Car Movers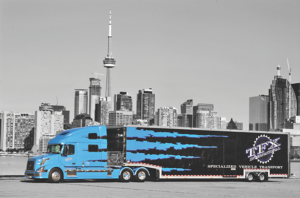 If you are the type of person who likes cars then you will definitely love the history of TFX. The team at TFX are true car people and since 1987 Wally Horodnyk has been striving to continuously improve both the driver and the customer experience. This has all boiled down to one thing: the right equipment.
It all began years ago when Wally was a co-partner in an Ontario trucking company. One day a member of their sales team asked if they could move a car from Flint Michigan to the GTA for the very impressive price of $1,700.00 USD. Since the going rate at the time for the average load was $300.00, Wally jumped at the chance and using a Ford truck and trailer, they loaded the car, placing pads all over the vehicle to keep it protected. When he delivered the car, the fellow who received it asked why all the pads? Wally explained that it was to make sure that the car stayed scratch free and protected. The guy laughed and said that the car was brought over to Canada to be crash tested and that in the next 20 minutes or so, the car would be totalled. Wally was invited to stay for the crash test of the very car he had painstakingly covered with padding and protected!
When Wally came back he asked his salesmen if he could get more car hauling deals and that is how he got into the car hauling business. Before long they had a business with over 400 cars to move so they began to purchase the necessary equipment needed to get the job done. Being a car enthusiast himself, Wally enjoyed building up this side of the company. A few years later, Wally and his wife Christine set up TFX International after they both realized that moving cars exclusively would probably result in a greater opportunity and a higher upside. Wally has always had a love of cars so he understands how important it is to move high value cars safely and without incurring any damage.
TFX prides itself in having top equipment to ensure complete driver and customer satisfaction. Their fleet consists of 26 Volvo trucks that get changed out every three years. Each of their custom ordered trailers are valued at around $300,000 and once they receive them, the trailers undergo even further modifications in the TFX fabrication shop. The evolution of their car hauling trailers has come a long way and all of their Drivers have the correct equipment and training to load and unload trailers efficiently. A major objective of the modified equipment is to eliminate any damage to the undercarriage of the cars they move so that even the lowest of sports cars are not scrapped in any way. This is critical when your top client list includes Ferrari, Bentley, Rolls Royce, McLaren and Maserati among others. The Drivers must get accustomed to loading cars that sit very close to the ground. Hydraulic pumps and rams adjust the car's height over the trailer wheels to optimize the number of cars a trailer can hold while at the same time, keeping the vehicles safe. In addition, all trailers are like mini vaults as they are installed with a remote mobile phone app controlling the locks of the trailer so that even the driver can't access it in certain situations. It is these types of sophisticated technologies and the trailer engineering that have attracted the highest level of luxury auto makers to choose TFX to deliver their new and used cars throughout the Canadian dealer network.
It truly is a family owned and run business with Wally as VP of Operations and Christine as the CFO. Also involved is their daughter Caitlin (City Dispatch), daughter in law Annie (Adams wife) in Human Resources and nephew Andy (Wally's brother's son) who is warehouse supervisor. Also working with the company for many years is Wally's son Adam who has recently become President of the company.
Adam began with the company at a very early age and at age 21 he moved from the shipping department into the office and began to learn various job positions before finally taking over sales and marketing for the company. Over the years he has learned every aspect of the trailer business and running the shop and has learned the business from the ground up. Adam states; "The first thing everyone learns to do when they get hired here is to load a vehicle properly. It typically takes a full year to learn this specialized skill." Wally continues; "These cars are very valuable so we always use two people when loading, one inside the car and one outside as a spotter."
The company is focused on building the business in key segments. Their OEM deliveries to various dealership networks throughout Canada have grown quickly and now account for approximately 30% of the business. Their snow birds segment (people who hire TFX to have their cars shipped from their Canadian home to their warmer residences like Florida State) now also account for approximately 30%. The rest is made up of personal or unique vehicle hauls like vintage cars for car shows or auctions, celebrities' cars and cars used for motion pictures.
The future looks bright for TFX with Adam focused on key growth areas while Wally expands their fleet, adding about 3 drivers and 3 truck/trailers per year. The focus still remains on providing drivers with the right equipment and satisfying their customer's needs. A true family owned and operated company now set for further growth to come.