When to do Post-Accident Drug Testing
So, your trucking company is very good at moving freight. You have experience in dispatching drivers and your customer satisfaction is high. You do a great job at the things that you do every day! But today isn't a usual day. For the first time in months, one of your trucks is involved in a crash. To make it worse, your truck was in the States. Somewhere south of the 49th parallel your driver is in a crash. The police have been called and are now on site. You have immediately informed your insurance company of the situation and they tell you that an adjuster is on the way. These are the immediate steps to take but are you missing any? How about post-accident drug testing?
Often when I'm working with my clients and I see they had a crash in the USA, I ask about drug testing. My first question is usually, did you perform a drug test? Sometimes they did and sometimes they didn't. What concerns me the most though is, when I ask "why" they did or didn't do a drug test, the carrier often doesn't know the answer. Whether you did or you didn't do a drug test, if you didn't follow the law and follow the regulations, the results can be disastrous.
So when do you have to perform a drug and alcohol test as a result of the collision? Regulation 382.303 of the FMCSR's outlines the post-accident drug testing procedures, including the "When". So let's quickly review the regulations:
Post-Accident: If you are involved in a fatal collision you must test your driver/operator. It doesn't matter if it was your driver's fault or not. As a matter of fact, "fault" is never mentioned in the regulation for drug testing, post-accident. So in a fatal accident you must test:
• If your driver receives a moving citation and (this is very important) someone receives medical attention away from the scene of the crash, you then must do a drug and alcohol test.
• If your driver receives a moving citation and any of the vehicles involved in the crash are towed away; you must do a post-accident test. I am including a chart to help you decide if you need to perform the Post Accident Test.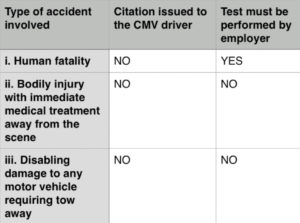 How much time do you have to get the test done? Regulations state that you must perform the test "as soon as practical". They go on to say that you should perform the test within two hours. If for some reason you are not able to perform the test within the two hours, you must then make notes as to why you didn't do it within 2 hours and get the test performed within 8 hours. If for legitimate reasons the test could not have been performed within the 8 hour limit, you now cease attempts to perform the alcohol portion of the test and only test for drugs within 32 hours of the collision. So there you have it. You perform the test as soon as practical, within 2 hours, if not done within 8 hours, if not completed; you test for only drugs within 32 hours.
Carriers often ask me two questions at this point. What if I failed to do the necessary test? What if I just test everyone after the collision?
First, if you failed to do the necessary test, this of course would look very bad in court. You can only imagine what the prosecuting attorney would make of a failure to follow and comply with the regulations. The settlement for the injured party would just escalate.
So to answer the second question why don't you just test everyone after a crash? What if this driver tested positive and you had no legal right to perform the test? Now what do you do? You have likely invaded this driver's privacy. It would be difficult to terminate a driver with a positive test when you did not have the right to ask the driver to go for the test. This would make things very complicated. On the other hand, how can you let a driver operate a vehicle that is insured and operates under your authority, when you know the driver tested positive for drugs? See what happens when you don't follow the regulations! Life gets very complicated.
It would be much easier if you follow the regulations during the time frames posted above. I hope that your company never has to use the "Post-accident testing" but if you do, please be sure to follow the regulations.
Be safe.
Stay safe.
Chris Harris
Top Dawg, Safety Dawg Inc.
905-973-7056
chris@safetydawg.com
@safety_dawg (twitter)

About Chris Harris, Safety Dawg
Chris has been involved in trucking most of his adult life. He drove truck for and worked in various office/management positions for a major truck company. His last position of 5 years in the safety department where he was responsible for the recruiting of Owner Operators and their compliance. He joined a trucking insurance company in 2001 and has been in the insurance side of things until making Safety Dawg a full-time endeavour.